TO DISCOVER
Tropical vibes at L'Atelier Renault
LIFE, WITH PASSION:  L'ATELIER RENAULT IS COLOURFUL THANKS TO THE ARTIST LEONA ROSE!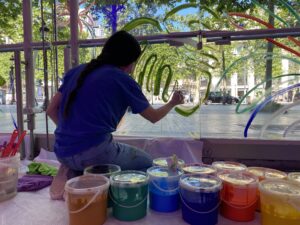 L'Atelier Renault, the flagship dedicated to innovation and design on the Champs-Élysées, is ready to welcome you in the safest possible conditions from May 25th. It is the floral, sunny and sparkling colours of Leona Rose that will welcome you as soon as you pass in front of the shop window, to celebrate the life that is starting again, with passion.
Want to escape, stroll and discover in complete safety? Rendezvous on the Champs-Elysées to (re)discover an emblematic place in Paris.
To celebrate this rebirth and breathe optimism and joie de vivre into visitors, the young French artist Leona Rose from the Quai 36 collective is taking over L'Atelier Renault. The starting point for her creation is the pop and offbeat vehicle: the Renault 4L seventies. Leona Rose glorifies it in a floral and joyful scenography, all in expansion and movement, creating a true metaphor of life taking back its rights.
"Our choice was Leona Rose with her colourful and abundant plant world, which is not afraid of large surfaces. "David Ménochet – Director of L'Atelier Renault – explains, and with good reason!
The artist's playground stretches across the 15 meters frontage of L'Atelier Renault on the most beautiful avenue in the world and then spread inside the brand's showcase.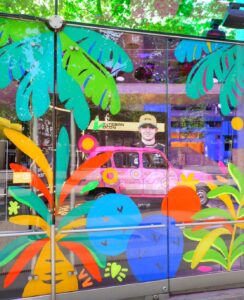 Programm:
a resolutely vintage and vitamin-packed exhibition based on the legendary Renault vehicles of the period – the legendary Renault 4 L Seventies and the famous Renault Floride.
three interactive games with motion detection, "100% contactless" animations, for a moment of sharing.
And for those who couldn't get there, L'Atelier Renault offers on its social media, to discover the backstage of this original and refreshing scenography, as well as exclusive contents to bring this stimulating renewal to life beyond the 100 km limit!
True DNA of the brand's group, #PassionForLife will be at the heart of all the events and exhibitions on offer at L'Atelier Renault for young and old alike until September.