TO DISCOVER
E-TECH : Electric Mobility for you
L'ATELIER RENAULT BECOMES THE PLACE OF THE "ELECTRIC WAY OF LIFE"!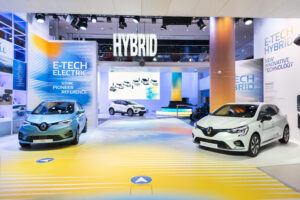 The new season promises to be 100% electric at L'Atelier Renault! Come and discover E-TECH mobility, a revolutionary new technology at the service of sustainable mobility for all. This new exhibition presents the most complete electric range on the market: a hybrid and electric offer adapted to all uses, all in an electrifying exhibition!
A STORY WRITTEN FOR THE FUTURE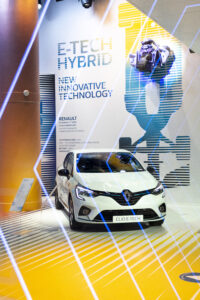 More than 10 years of expertise in electric mobility combined with a know-how derived from the best of motor racing allow Renault to offer today E-TECH engines, a revolutionary technology with unrivalled potential.
Backed by 150 patents, it is a true hybrid powertrain that offers the driving pleasure of electric power with the maximum versatility of a hybrid.
Thanks to this new hybridization offer, hybrid models with Clio and rechargeable hybrid with Captur and Mégane, Renault now offers the most complete electrified range on the market.  
AN EXHIBITION AT THE HEART OF E-TECH, DISCOVERING THE ELECTRIC WAY OF LIFE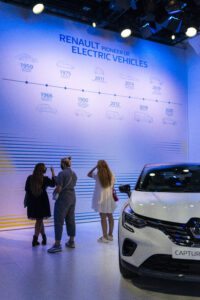 To fully discover the "Electric way of life" by Renault, plunge into 60 years of history between Renault and the electric car by taking part in animations and interactive experiences contactless!
F1 enthusiasts and/or curious, an authentic Renault DP World F1 Team engine awaits you behind the doors of L'Atelier Renault!
At the heart of the exhibition, take a stroll among the flagship vehicles of the E-TECH, electric, hybrid and plug-in hybrid range: CLIO E-TECH Hybrid, CAPTUR E-TECH Plug-in Hybrid, MEGANE E-TECH Plug-in Hybrid and TWINGO Electric. Car aficionados will then have the opportunity to see a world preview of their favourite Renault models, revisited in the electric era!
AN EXCEPTIONAL WINDOW DISPLAY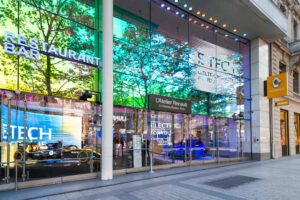 The Showcar R.S. 20, star of the circuits this year, presented exclusively at L'Atelier Renault!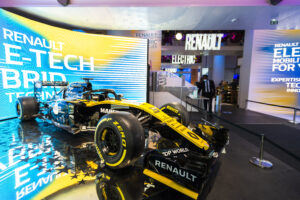 Discover how motorsport is at the heart of the development of these new E-TECH engines accessible to all. Formula 1 is, in fact, a real research and testing laboratory for developing the production car of today and tomorrow.
At its side is the Renault ZOE e-Sport concept car, the "supercharged" version of the ZOE, which embodies motor sport combined with the exceptional potential of the electric vehicle.