TO DISCOVER
Florida Beach
This summer, head for Florida without leaving France with L'Atelier Renault!
Embark on board the mythical Renault Florida, on the way to South Beach! A unique opportunity to experience the "American Dream" in a decor straight out of the cult red swimsuit series…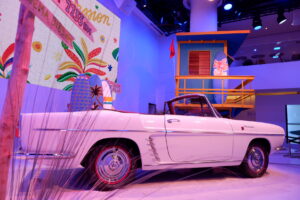 A journey through time and space that begins on the pavement of L'Atelier Renault, where you can see the 4L Seventies through the window newly decorated with the colours and universe of Leona Rose. To find out more about the showcase: Click here
Push the door of L'Atelier Renault and go straight ahead: on the stage stands the beautiful Renault Florida, in the heart of an idyllic beach with its life-size lifeguard hut, surfboards, sand and seashells.
Enjoy the first summer good vibes and our "best point of view" for visitors who will be able to take their best holiday photo without leaving Paris!
About Renault Florida:
Born in 1958 from a collaboration with the Italian body makers Ghia and Frua, it seduces Brigitte Bardot, ambassador of French elegance, by its design very inspired by the "beautiful Americans".