TO DO
Family pack
The whole team at L'Atelier Renault is thinking of you: discover a series of activities to do with the whole family.
[TO LISTEN] 3 tales to listen comfortably from your home.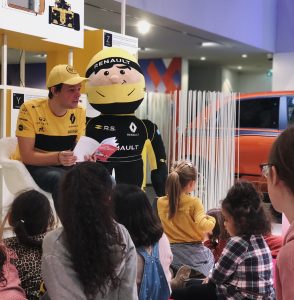 Discover three original adventures from the great Renault history:
The Renault Type A : Dive into the story of Jean and the crazy bet of Louis Renault in 1898.
The Yellow Teapot : Gabriel has the chance to support the Renault team at the 1979 French Grand Prix.
The shooting star: Louise's grandfather tells her the incredible story of L'étoile filante Renault, the fastest car in the world.
Find free podcasts on Soundcloud and Deezer
Warning : the tales are in french.
[CREATIVE WORKSHOP] Colouring + new games for all ages!
Throughout the year, L'Atelier Renault offers you free activities to do at 53, avenue des Champs-Elysées.
Here is an excerpt of our 2019 animations, free to download.
Click on the colouring of your choice to download it:
[AUGMENTED REALITY] On your tablets and phones to control your colouring in augmented reality!

What if you could make a drawing, bring it to life and drive it? Thanks to Coloring Renault it's possible!
Download the application on the Appstore by clicking here
Download here original drawings for printing
Colour the drawing
Scan the drawing with the Renault Coloring app and drive the vehicle customized with your colors.