TO DO
TO DO ● ¡ARRIBA MEXICO!
L'Atelier Renault is putting on the Mexican colours
L'Atelier Renault plunges you into the unique atmosphere of Mexico during the famous "Dia de Muertos" festival. 10 days of festivities in a warm and family atmosphere, to celebrate the ancestors and feel the thrills of the Mexican Grand Prix. From Friday 25 October 4pm to Sunday 3 November 11.30pm.
On the programme: Mexican-style disguised cars, tree of life, food and make-up for everyone, broadcast of the Mexican GP, immersion in the daily life of the Renault F1 Team®.
Animations throughout the event:
BATAK Challenge: Test your reflexes and challenge the Renault Sport Academy drivers' records. The principle? You have 1 minute to hit as many targets as possible that light up randomly. The Batak is a training system designed to develop movement coordination, reactivity, peripheral vision and spatial positioning. It is used in the daily training of pilots.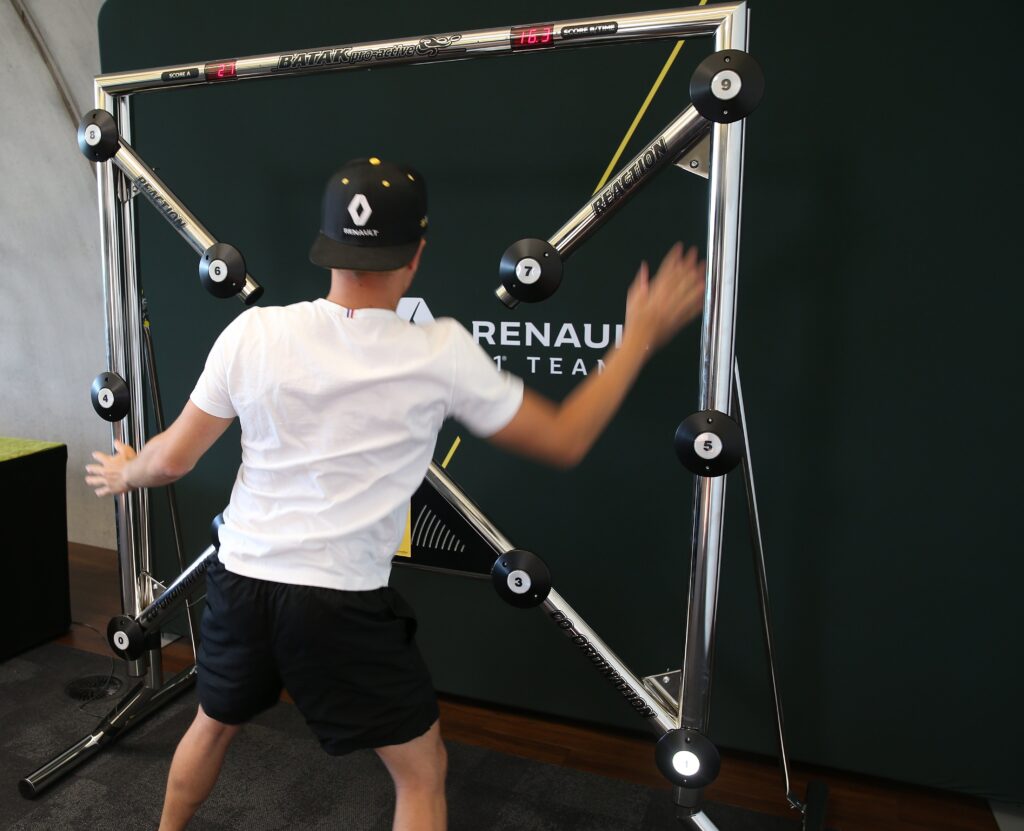 Exhibition of the Renault family's Tree of Life: The Renault Workshop honours Renault's heritage and pays tribute to the Renault family in accordance with Mexican tradition and the famous "arbol de la vida".
Exhibition of legendary vehicles: The Type K – Renault's first racing car, victorious in the Paris-Vienna race of 1902 – will sit on a flowerbed and face the more contemporary version, also on display in the showcase: R.S. 2019, the Renault F1 Team® single-seater. A 4 CV will also be presented in a Mexican-style setting.
Exhibition of masked vehicles: a few vehicles in the range will be donning their Mexican ornaments. Come and (re)discover Kwid (sold in Mexico), Twingo or Twizy.
100% Mexican menu : Try in our restaurant, on the first floor, Mexican specialities produced by the famous chef Alexis Delassaux, from the restaurant Luz Verde. Let yourself be charmed by Alexis' delices : Guacamole Luz Verde, Pico de Gallo, Bream's Ceviche, Passion Ice Cream, Espuma Coco, Caramelized Mango , Chili's Meringue.
Highlights :
Friday, October 25
From 6pm: Happy Hours at the restaurant (6pm-8pm), Mexican atmosphere with a DJ (until 10pm), make-up workshop in free access (6pm-22pm)
Saturday, October 26th
8pm: Broadcast of the qualifications (uncommented) on a giant screen
Sunday, October 27th
From 3pm: Make-up workshop on free access (until 6pm)
15h30: Arrival of the mariachi group to vibrate to the sound of Mexico just before the start of the race
8pm: Broadcast of the Grand Prix on a giant screen (free access, including 60 seats)
Monday, October 28 to Thursday, October 31
14h – 18h: Culinary workshop "Cookies de la Vida". Let your creativity speak for itself, draw, colour and…. leave with your creation! Free access, without prior reservation, for adults and children (from 5 years old). Allow about 20 minutes.
Saturday, November 2nd
From 2pm: Make-up workshop open to all (until 6pm)
¡Hasta pronto!